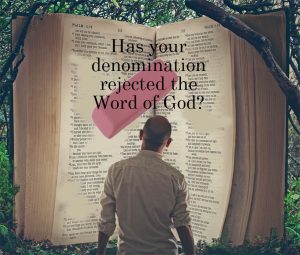 Has your denomination rejected the Word of God?
We invite you to join TMCI, a growing denomination that still believes in 2 Tim 2:15, "Be diligent to present yourself approved to God, a worker who does not need to be ashamed, rightly dividing the word of truth. And Heb 4:12, For the word of God is living and powerful, and sharper than any two-edged sword, piercing even to the division of soul and spirit, and of joints and marrow, and is a discerner of the thoughts and intents of the heart."
TMCI believes that God's word should direct our paths, not culture. If you want to join a movement, a group of Believers, that still honor the infallible word of God, we invite you to visit our website for information about who we are and what we do.
www.tmciworld.com.
The Missionary Church International, for over twenty-five years, has fulfilled the simple mandate from God to empower men and women of God to fulfill the calling God has on their lives by giving them a 501(C)(3) [nonprofit status], ordaining them, praying for them, and equipping them at regional and annual meetings and through the Internet.