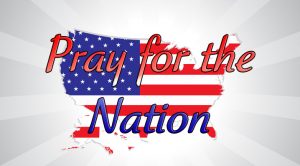 The war for the soul of this nation continues. The church must not sleep. Many prayed fervently for our nation before the election. We must maintain that fervor. Extreme elements are trying to steal the progress we have made as a nation.
My prayer today for this nation is Ps 59:1-3 Deliver me (our nation) from my (its) enemies, O my God; Defend me (our nation) from those who rise up against me (it). 2 Deliver me (our nation) from the workers of iniquity, and save me (our nation) from bloodthirsty men. 3 For look, they lie in wait for my (our nation) life; The mighty gather against me (Our nation), NKJV
Folks, the corruption in high places is rampant. Our new president promises to drain the swamp; but the resistance from the firmly placed establishment is fierce. The only way we will have justice is for God's people to pray fervently for our nation and speak out against the evil they see.
So, let us pray that Congress will see the evil and corruption around them and repent and do something about it. Let's pray that our congress will put the people's interest ahead of their own. Without our prayers and God's help, the administration cannot prevail in its reforms. Let us pray that justice will be done and that this country will once again honor God and the rule of law.
Remember James 5:16 The effective, fervent prayer of a righteous man avails much. (NKJV)
We must not stop praying for our nation. It is the prayers of the saints that will win the day.
Praying fervently,
Bishop Bob Coulter
February 15, 2017