Hello Bishop Bob and all of my praying partners……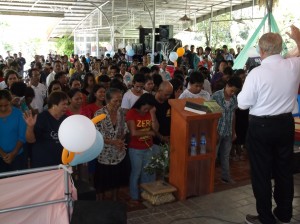 I am so thankful for every prayer that was and is being thought or uttered on my behalf….the results came flooding in Sunday Morning with a crowd estimated (by them) at 350 to 400 which included some 40 pastors and their wives.  Throughout the praise and worship and especially at altar call time the convicting power of the Holy Spirit from Heaven filled the place.  Some fifty to sixty precious souls came to Jesus and I am fighting back tears of thanksgiving as I write these words. The needs are so great here…and God is so strong to meet them.  
Please continue to lift me up in prayer.  Our next meeting is an outdoor tent meeting scheduled for Sept. 5.  Sept 6 in Bishop Diapen's church and then down to Dummaguette Negros for an outdoor meeting on Sept. 11 and a church service Sept. 13.
God Bless you all…
Bro. Jim Hobby