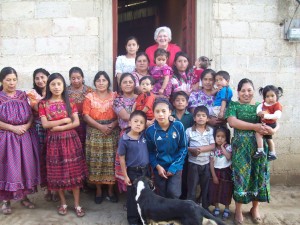 Dear Bishop Bob,
These are photos from the Tea in Xecam.  The first photo is me with the winners of the drawing we always have.  The women with the food basket also rec'd at the last tea.  She is the hostess.  She has four children and her son chose the numbers for the drawing.  The second photo is taken in front of the building where we had the tea.  It is a small church attached to their home and is directly across from the construction of Fountain of Grace Church.  Catarina, Pastor Antonio's wife is missing from the photo but that is his youngest daughter standing beside me.  She is the one whose baby died earlier this year when it is was only a few months old.
We only had a small group but those that came were very attentive.  Catarina was the only one who took notes, though, because she is a student of the Word.  She is extremely shy and quiet.  Even the children gave attention to the message.  I taught on the Lord's Prayer and what each scripture means.  They all responded well to the message.  Part of the reason for low attendance is also that we had so much trouble scheduling a date that would work for everyone.  The tea was only announced twice on Sunday, and then on Tuesday and they all don't attend  the services regularly.  But I was pleased with the group that came because they really wanted to be there and they really listened to the teaching-from the oldest to the youngest they responded to the Holy Spirit's leading.  We had a great time with the Lord.
None of the men were around, and so I didn't see Pastor Antonio to be able to speak to him before leaving for the States.  I gave Catarina, his wife, the packet that I had prepared with all the good teaching on Effective Tools that you sent.
I thank you for your prayers.
Love in Jesus,
His Missionary in Guatemala, Arlene