From Tuxtepec, Oaxaca: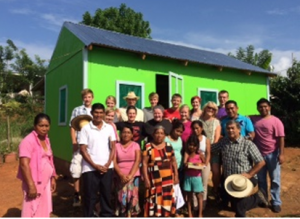 This amazing group from Michigan led by Jane and Britney built this beautiful home overlooking the city dump (now a beacon of hope for hundreds in need). ALL helped; some nailed, some painted, some cut. All built a relationship with the locals.
Patricia, 33, a mother of 2 girls (7 and 14), was abandoned by her husband several years ago. She and her daughters live at the dump. She is a Christian trusting God for her very next need.
We prayed for many. Bro. Julio preached and many were healed and saved. On the last day we feed close to 100. THE WHOLE TEAM WAS A BLESSING TO ALL.
Continue to pray for me. I am recovering slowly after 2 days in the hospital and 3 days in bed.