 
NEWS THIS WEEK   Pastoral Care Seminars begun in Nepal
The Earthquakes of April 25 and May 12 have done more than just damage to property and life. It has also created intense feelings of hopelessness among the people of the nation. With this, Renaissance Outreach Ministries is launching seminars to train rural pastors and church leaders on how to do pastoral care and counseling.
"This is a new concept in this part of the world," noted Rev. Jan L. Beaderstadt, president of Renaissance. "In the West, people are used to the idea of going to the pastor to seek spiritual counsel. Here, pastors have not been trained in this important ministry."
The first of the conferences was held on June 18 at the Nepal Presbyterian Church in Shorkote in Gorkha District.
The village is located south of the epicenter of the April 25th quake. While their village was not as badly damaged as those north of there, the various villages are dealing with PTSD, nightmares, and feeling of fear and resignation.
The purpose of these conferences are to train pastors and church leaders in how to do pastoral care. There are very few resources in Nepal to help people, and almost none in the rural areas.
There were 51 pastors and church leaders from various area communities in attendance. The comments were very favorable as they learned this ministry skill. The conference cost is $260.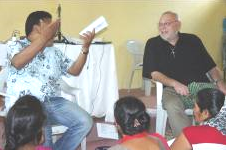 Rev. Jan L. Beaderstadt (right) and his translator at the Pastoral Care Seminar June 18th in Gorkha District.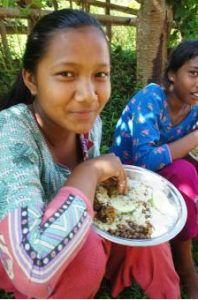 Enjoying a traditional lunch after the program.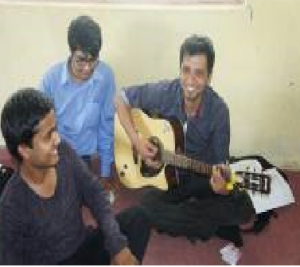 Music during the seminar.

OTHER NEWS
Pastor Gosto Sarker starts school in Jatpur
Pastor Gosto Sarker, our former superintendent of schools for the Alo Catholic Schools in Senerganti Mission and Manikhar village has opened a school in his home village of Jatpur near the city of Khulna, Bangladesh.
Pastor Gosto has been doing evangelistic work in the southwestern part of the country, training pastors and leaders in remote villages near the Bay of Bengal.
The school has around 61 children in the village. He and his family have moved back to this poor village and are currently rebuilding the mud house that belonged to his family.
He is calling it the Jatpur School of Light. Renaissance Outreach Ministries is currently supporting his salary of $200 a month.
Earthquake Report from Nepal
Life is beginning to return to normal in Nepal as the broken buildings are being torn down. Only the 10 districts around Kathmandu were seriously impacted by the earthquake.
Renaissance Outreach Ministries distributed 300 tarps (tents) to people in remote villages and is now training pastors to help counsel earthquake victims.
HAPPY FATHERS' DAY!

RENAISSANCE OUTREACH MINISTRY
P. O. Box 121  Greentown, IN 46936
 (517) 425-4773
Rev. Michael Murray, VP of Outreach
All donations are tax-deductible as we are a 501(c)3 ministry
E-mail us at SchoolsofLight@yahoo.com