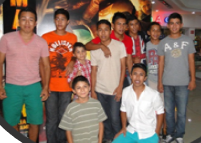 "Changing our world one life at a time"
Well summer is almost here for us, but our boys in Mexico will have to wait until July, and their summer vacation only last six weeks.
In Colima they are near the end of the dry season, which last from October to the end of June. Right now everything is dry dusty, and dead. The first good rain cleans the dust off of everything including the trees, houses, and the streets. It is a time of celebration as everything starts to turn green, and during this time the children often dance and play in the rain. It is the most beautiful time of the year.
This year two of our boys have done extremely well in school. Carlos and Roberto are in the top of their class. They both like to read and set high goals for themselves. Carlos wants to be a doctor, and Roberto wants to be a biologist and travel the world. Let's pray and believe by faith that one their dreams will come true.
We have a new boy in the orphanage and his name is Fabian. He is eleven years old, and he dreams of joining the military when he is older. His favorite scripture is PS 23:1-2.
Finally, Julio's wife Adrianna is leaving the orphanage. It was a hard decision. She feels as her daughter is getting older she needs to be at home. We are thankful for all she has done.  Please pray for her as puts family first.
Troy and Imelda Guild
Please send Checks to:
Mission to the Children
PO Box 211322
Bedford, TX 76095