Nearing the End 
The school year is almost over. It really feels like we just started our homework help program and the year for the Haitian School and now it is a month away from being over.  Not only that, but we are also a 2 and a half months away from returning to the states for the first time in two years. It is amazing how much our lives here have become normal and how we are not going home, but leaving it.  Many of our Dominican friends here tell us that when Americans leave they never come back, and they keep telling us they are scared for us to go and not come back.
We will certainly enjoy our time in The States but it will be hard to leave for so long. Don't get us wrong, we're excited to see our friends and family, spend some time reconnecting with our church families, go to upick blueberry farms, shop at New Seasons, go hiking in the Gorge, and eat a real burrito!, but as soon as we receive our residency visas we will be absolutely ready to leave the busy world of the US and come back home.
Baseball Ministry Update
Randy has been struggling to start a baseball ministry ever since we arrived in the country. He's tried different things but nothing seemed to stick. For the last few months, he's told the boys in the neighborhood that if we practice we could have our own team and possibly play against other teams in the city. The boys have always been excited, but never showed the willingness to show up on a routinely. Recently a friend of ours gave us a whole bunch of uniforms to see if we could distribute them for him. Randy gave them out to the boys in our neighborhood thinking simply that it would be a nice thing to do. They instantly took pride in the D on the hat (which Randy told them stands for "Daddy" which is what they call him since that's what our kids call him) and started calling themselves a real team. It was a lot of fun, but more importantly it has opened up a door for the Word since Randy has gained serious into their lives in a new and different way. All of these boys live within a 100 yards from us so this is truly ministry were we live. When I look at this pictures my heart swells with happiness as I think of all these kids I have grown to love. This is one of the ways we have committed to be intimately involved in the lives of our neighbors.
Here are some upcoming events and prayer requests
End of the year hot dog BBQ for the Homework help program. We our inviting all of the families of the kids from the Homework Help Program to an end of the year party. We know that the majority of the parents will never step foot in an evangelical church, but our goal here is to have one of our Dominican friends share the gospel before everyone gets their food.
Finishing up the school year out at our Haitian School. This takes a lot of planning since we will not be here for the first 3 months of the next school year.
Pray for wisdom for us as we decide if we are going to do another summer camp like we did last year
The details as we need to get every thing lined up for the 4 months we will be gone.
Finally, we really really need to borrow a car for the time when we are in the states. If you or anyone you know has an extra car we could use, even for a portion of the time we're back, please let us know.
This is Juanki.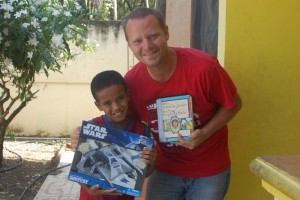 Some of you may remember that we promised Juanki that if he learned to read this year he would get to pick a toy from a toy box we have. At the beginning of the year he didn't know all his letters but last week he read an entire story out of the Jesus Storybook Bible. We are so proud of him! Here he is with his prize!
These are some of our good friends and neighbors.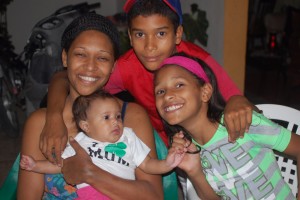 My friend Miguelina (the mom pictured) just found out she has cancer and that there is no known cure for the type of cancer she has. Emilie has spent a lot of time with her over the last year and is planning on driving to the big city near us to visit her at the hospital while she goes through Chemo. As of now she is not a believer but Emilie keeps sharing the gospel with her and we are praying she will come to know the Lord soon. Please pray for her and her 3 kids.
Thank you as always for your continued love and support. We are so thankful for all the people who support us, write us, encourage us, and reach out to us.
Love,
Randy, Emilie, Autry, Clarabelle, Adelaide and Gibson