My Prayer is: Passion for His Purpose – Compassion for His People
                            My Purpose is: To Please Him
A New Season
Another Season is being birthed—Spring!  I love Spring!  I know I say that about every season.  But it is true.  Each season holds lessons to be learned, mysteries to be revealed, and changes and challenges that have potential to cause us to grow stronger and be better.   Every season has a great story to tell.
Spring is the Story of the Resurrection.
Everywhere I look I see "Resurrection."  The old must die to bring in the new.  And Spring is the "New."  Fresh, new growth is bursting forth.  Even though there is still snow on the ground in some states, like my home state in Pennsylvania, flowers are still popping up, stretching and reaching toward the sun.  Outside my kitchen window in Guatemala, I see pastel buds on the peach trees that just a few weeks ago appeared barren and dead.
Our Creator God is faithful.  There will always be spring time/seedtime and harvest.  It may be arriving a little later in some places, but it will come.  God's Creation responds to His Word.  And He Promised in His Word in Genesis 8:22 that there will always be a Seed time and a Harvest.
The Resurrection Story reveals God as the Giver/Sower of the greatest seed ever sown.  His Son!  Our Savior!  He died and rose again to give us Eternal Life through Him.  Seed Time and Harvest! Jesus was the Seed and we are the Harvest!
To be Christlike, we too must be sowers of seeds, sowing our lives in service to Him.  The Bible says that the harvest is plentiful, but the workers are few.
Each season leads into another, and each season has a story to tell just like each person also has a story that  needs to be told.  Each story is written on the pages of our life's journal.  Each one unique and precious to Our God for He has given us this life to live, and eternal life In Him.  Every day is a new day, and every day God sows new life in us.  What we do with the day He gives is our giving back to Him.
I ask myself, "Is the garden of my heart prepared for the good seed of God? Search me Lord and teach me Your Truths. Write them on my heart and weed out and keep me back from all things that are not of You. Change my heart, Lord, and help me be that person You describe in Psalm 1, 'Like a tree planted by streams of water, which yields its fruit in season whose life does not wither-whatever they do prospers.' In the Name of Jesus, I pray and thank You Father God for all the blessings in my life.  Most of all, I thank you for Resurrection Life through Jesus the Christ, Your Son and my Savior." 
John 11:25(KJV): Jesus said unto her, I am the resurrection, and the life: he that believeth in me, though he were dead, yet shall he live:
SEEDS SOWN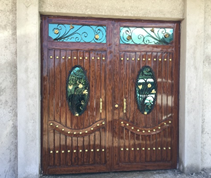 I give thanks to God for every seed that has been sown into this ministry.  We have been blessed and we have been able to bless others through your seed sown.  Because of your generous hearts we have been able to help Pastor Antonio Colop build up the Kingdom of God in Xecam Cantel.
We are including some of the photos that show the work of Bridges of Grace Ministries with Fountain of Grace Church.  We still need to finish cementing the interior, putting in the windows, and installing a floor, in that order.
If you look closely you can see the dirt floor, and the partially covered windows of plastic and corrugated aluminum.
I am praying that we can finish the sanctuary this year.   We are already in need of an extension to be added as soon as possible for the children's ministry.  We have an abundance of little ones.  Praise God!  That's a good problem to have.  We just need to catch up and make room for the abundance.
Thank you for your giving, and if you would like to plant more seed into this fertile ground, we will receive it with happy hearts.
Please make checks payable to Bridges of Grace Ministries with FOGC  on memo line and mail to:
Bridges of Grace Ministries  c/o Bernice Trask 
118 S. Spring St.
Blairsville, PA 15717
2 Corinthians 9:7-12: 7Every man according as he purposed in his heart, so let him give; not grudgingly, or of necessity: for God loves a cheerful giver. 8And God is able to make all grace abound toward you; that you always having all sufficiency in all things, may abound to every good work: 9(As it is written, He hath dispersed abroad; he hath given to the poor: his righteousness remains forever. 10Now he that ministers seed to the sower both minister bread for your food, and multiply your seed sown, and increase the fruits of your righteousness;) 11Being enriched in everything to all bountifulness, which causes through us thanksgiving to God. 12For the administration of this service not only supplies the want of the saints but is abundant also by many thanksgivings unto God.