Dear Friends & Family,
It is so amazing to see how Nicaragua has advanced during the 17 years that we have been ministering here. 
Our hearts were broken for Nicaragua in 1995 when we first visited; then, after much prayer, we moved here in 2001. But it wasn't until this past 10 years or so that we have seen how foreign investment, both economic and spiritual, and a vision for a better future have dramatically altered the lives of all Nicaraguans. 
Wherever you look you can see the influence of God in the lives of the people and they don't have to hide it for fear of recrimination.  Even the government refers to Nicaragua as a Christian country.
We are happy to have been able to contribute to the spiritual, emotional and physical well-being of those we have been blessed to serve.  Whether it was teaching auto repair to indigent youth (2001-2006), hosting teams (2005-2018), providing the word of God through our various churches (2005-2018), teaching toddlers in our Preschools (2005-2017), or caring for needy children in our Children's Home (2005-2012), we have given it our all.  God has directed our paths, has opened doors, and helped us overcome incredible hurdles in order that we might help others.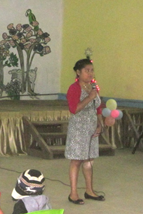 Emmy, our Nicaraguan daughter who has been with us for 8 years, is now blossoming after nearly losing her life from Lupus, and, at this point, she is the main focus in our lives.  Thanks to the donations we have received, she has the medication she needs, good nutrition, and the ability to attend a good Christian school.  We feel blessed and so does she.  Knowing that God restored her life, she is dedicated to teaching children and serving Him.
Iglesia Nuevo Amanecer
As of 2018, we have brought one of our pastors, Pastor Lorenzo, whose first church is in Juigalpa, to Diriamba to pastor along with his wife, Luz Marina, at our church, Iglesia Nuevo Amanecer.  He will also be responsible for our ministry, Mateo 5:16 in Nicaragua.  He has brought a young, married couple, Ezekiel and Thelma, to live at Quinta Esperanza and to minister alongside them.  Elvis continues to assist with children's ministry as does Emmy.  
Needs:        Replace some roofing.
                   Paint for exterior of church.
                   Replace wiring & breaker boxes.
Iglesia Nuevo Jerusalen
In 2011, a church was built, also in Diriamba, for our ministry but due to the poor health of Pastor Manuel, it was used primarily as a Preschool until the end of 2017.  This year, 2018, there is no longer a preschool and the church is operating with the help of Pastor Avellan and his wife, Louisa, who are currently ministering to the children on Sundays.
The church was completed in 2011 and has yet to be painted. 
Needs:        The walls and floor need to be painted.
                   The entrance needs a new floor.
                   The front doors need to be replaced.
                   The building needs a gutter.
                   The bathroom needs windows.
                   There is a need for at least 20 more chairs.
Pastor Carlos – Ministerio Dios Es Bueno
Pastor Carlos Miranda and his wife, Veronica, continue to expand into different communities of Carazo.  They, despite the welcome and miraculous birth of their son in 2017, are totally immersed in ministry.
Needs:        Help to pay rent at different church locations.
                   Underwriting.
Pastors Glenn & Lynne Schweitzer
As heads of the ministry, Mateo 5:16, Pastors Glenn & Lynne have many needs, the most urgent being:
  Airline fare for travel to the U.S. in May ($1400)
Ministerio Mateo 5:16 still has bills to pay from 2017 to the tune of $20,000.  There is no longer income from our mission's house since we closed it in February 2017.
HOW TO DONATE:  The easiest way is through PayPal.  Simply send funds to our ministry account at: mateo516ministry@yahoo.com.  Or you can send funds via Western Union or Moneygram to:  Lynne Schweitzer  Tel: 8648-4316 in Jinotepe, Carazo, Nicaragua.  (You will have to send me the number they give you.)
The Missionary Church International also has a PayPal account where you can send funds for Ministerio Mateo 5:16.