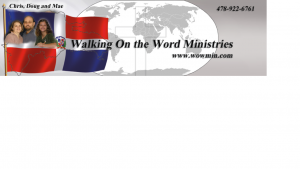 It Has Been A Busy Year.
2017  What a busy year!  As we look back at when we sent our last newsletter we see that it has been almost a year.  And for this we apologize!  We have done a little traveling, worked at various projects and with many mission teams, and had a little fun with friends along the way.  If you are a regular reader of our emails then you know that in the past year Chris was promoted to the Director of the English Department at La Vega Christian School when the previous director had to leave to help out with his sick parents.  Doug had been the interim pastor at The Bridge Church, and since the return of the founding pastor, has been given the job of Assistant Pastor and Administrator.  Besides working full-time at La Vega Christian School, Chris enjoys tutoring private English classes in the afternoons.  Doug has also started some tutoring of his own with two people that he is helping out.  The main work that Doug continues to do is administrative in nature.  He continues to keep track of project monies for different building projects and he also works closely with the logistics of teams that come to help the ministry here.  We are currently working on 3 different building projects: one church, and two classrooms.  The church is in a community in the mountains named Tireo.  They are currently meeting in a small wooden building.  This new building, when finished, will be much larger and stronger.  The classrooms are part of the Haitian school programs that we work with.  These classrooms will not just be for the schools but will double as Sunday school rooms for the churches.
With two hurricanes this past year there was plenty of work to be done.  As you can see from the photo on the left the Camu river, which runs around La Vega, overflowed its banks and did plenty of damage.  Although the neighborhood we live in saw nothing from the hurricanes, some of the poorer areas near the river had plenty of flooding.  With the help of many of you we were able to participate with other missionaries and fulfill some of the loss this poor area had.   Below we are buying and handing out sheet sets, pillows, frying pans, and chairs from donations that came into Walking On The Word Ministries.  During this event we were also able to give out clothing and stove tops that were donated by others.
During the year we had many different mission teams come through.  As mentioned before, one of Doug's many different administrative responsibilities is to coordinate teams that come.  This past year we had teams from all over the United States.  They helped with church services, United For Him, summer VBS, construction, and end of the year Haitian school parties.  They shared The Gospel by giving a helping hand and sharing the love of Christ.
We are currently working on many different building projects.  This includes a church, two education buildings, bathrooms for a church, and a house.  To the left you can see the holes for the foundation at one of the education buildings.  Below you can see people working on the foundation of the church in Tireo.  Thank you for your help with the ministry here in the D.R.
Chris had the privilege to speak on Mission's Day at La Vega Christian School about mission's in the USA.  She also had the amazing opportunity to lead the 30 Hour Famine with the senior class, where they learned the importance of giving of themselves to help others. She is very busy with her work at La Vega Christian School and her private tutoring but is loving it!  Here are some pictures of Chris for you to enjoy.
Each year we
 do a little Christmas party with as many of the Haitian schools as we can.  Along with a little food we hand out Christmas boxes to the children.  It is a lot of fun but a lot of work.  Thank you for all that you do so that we can do our little part here in the Dominican Republic.
The Dominican Republic is a land of much variety.  We had the opportunity to travel to a few different locations this past year that we have been wanting to visit.  In January, we had to opportunity to go with some friends to a natural spot in the middle of the capital called Los Tres Ojos.  It is a large cave that you have to go down into that has 3 pools throughout it.  It is very interesting to walk through and very beautiful.  It is hard to believe that you are in the middle of a major city when you are there.  The other place that we were able to visit was Lago Enriquillo which is a salt lake that is below sea level located in a desert region of the country.  It is the home to many iguanas and alligators.  Below you are able to see a few of our pictures from these two trips.
1. Please pray for our continued health
2. The Lord's guidance and direction
3. We are in need of a more reliable vehicle
4. Please pray for Mae and her next steps
Finally we pray that everyone had a wonderful Thanksgiving and a very merry Christmas.  We also pray that you have a great new year.  We could not be here doing this with out the prayers and support of everyone reading this.  We appreciate you!  We plan on being back in the United States this summer.  Please contact us by email, Facebook, or other means if you would like us to speak to your church, small group or just for a visit.  Please consider supporting our work here this next year, either by monthly donation, special gifts, or your online shopping.
Mail gifts to:
TMCI
P. O. Box 1761
Columbia SC  29202