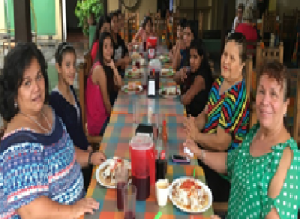 Imelda and I had a wonderful time ministering in Colima. We saw the hand of God move in the lives of so many people. We had the opportunity of peaching and teaching in many places.  God really rose up Imelda and gave her a special anointing to minster to the women.  She spoke with a new authority and a passion.
I was so proud of her.  She was the one who really shined on our mission trip. She is more comfortable behind the scenes, but this was her time to preach and I ended up following her most of the time.  It was amazing to see God work through Imelda in such a public way. Thank you for your prayers we felt them.
We took several suitcases of clothes to the Boys and Girls home.  Your Donations help us provide many needed items.  We especially want to thank the Girls Home for hosting us during our trip. They spoiled us and treated us with such love and hospitality.  It was humbling to see people with so little give so much. As a way of saying thanks, Imelda was able to take the girls out to lunch and have some girl time.  Rosa and Cecy thank you so much.  It was nice to see Sammy again. Three months was a long time, but he grew so much spiritually that we knew his time was well spent.  Sammy and Josh both had opportunities to speak and share, and as a parent I can say that I have never been so proud of them.  Seeing them minister and grow spiritual has been a lifelong prayer for us, and we praise God to see our boys bring glory to the name of our savior. This has been one of our best years in ministry and we want to thank all of our sponsors for making it Possible.
Please make checks to: Mission to the Children PO BX 211322 Bedford, TX 76095