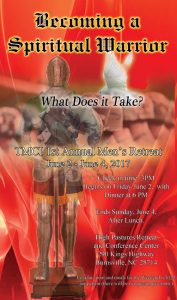 Deadline is May 15th. Bring a friend and get equipped for SURVIVAL
Pass it on! | TMCI 2017 First Annual Men's Retreat; June 2-4, 2017
Dear Friends,
As I registered for the Men's Retreat, I remembered a men's fellowship we had in Indiana. I remember the friendships that were made, but the thing I remember most was the power we felt as we prayed for each other, our families and our nation.
There seems to be a special move of the Holy Spirit when men come together to encourage and pray for and with each other.
So, let's fulfill Heb 10:25 And let us not neglect our meeting together, as some people do, but encourage one another, especially now that the day of his return is drawing near. NTL
Now, more than ever, we need to come together to encourage and strengthen each other so we can be the Spiritual Warriors God called us to be for our families and our nation.
Please register as quickly as possible so we will know how many beds we need. No registration will be accepted after May 15; however, IF YOU REGISTER BY APRIL 15TH YOU WILL BE ENTERED INTO THE DOOR PRIZE ($50 VISA CARD) DRAWING.
Please note when you register, only a $25 nonrefundable fee is required to reserve your room and meals. You can pay the $100 balance monthly or at the door. Advance registration will allow us to make appropriate arrangements for all.
Looking for a great empowerment from God at this Men's Retreat.
Bishop Bob Coulter