Keeping Busy…

It has been a very busy few months for us.  Chris is currently in charge of the English department at La Vega Christian School while the person who usually has that position is out of the country for a few months.  She is also teaching English classes after school to some children in the neighborhood.  She is usually too busy to help out at any of the Haitian after school programs that we are involved with on varying degrees but she enjoys helping whenever she has a chance.  As you can see, she enjoyed helping the kids with a craft project one day.  Doug is keeping busy with Pastoring El Puente International Church, preaching at other churches, and helping tutor in the afternoons at La Vega Christian School.  He is also going out to a few of the Haitian ministries every week and keeping up with the accounting of these projects so they can continue educating these young children giving them a chance for their future.
Update on Mae: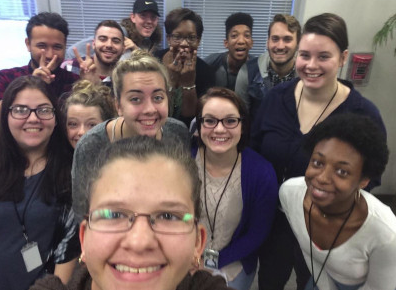 Mae has been established at Atlanta Leadership College.  ALC is not college in the traditional sense.  It is a Christian leadership training and discipleship school for young people seeking the Lord's will for their lives.  They take a few core college classes, but their focus is on ministry and discipleship.  As part of her experience this year she is required to be a part of a mission trip in February.  The school has many different trips available and Mae has been chosen to take part in the trip to Nicaragua.  As part of this opportunity she needs to raise $1775 in order to take part in this trip.  You can read more about this trip to Nicaragua by clicking here.  To help out with her expenses for this trip you can go to this link, click on "Give to Nicaragua," and follow the instructions.  All gifts to help her with the trip are tax deductible.  As of the time of sending this out she is only in need of around $500.  Thank you so much for those of you that have helped her financially and are praying for her.
Please Pray for the Dominican Republic:
We have been experiencing a lot of rain in recent weeks here in the DR.  This has caused heavy flooding in many areas of the country including some of the areas we work in, especially the Los Rieles neighborhood.  As of this writing there have been at least 8 houses lost to the Camu River in this area.  We have been working with some other local missionaries, as well as other churches, alongside Pastor Gemuel Delgado to help feed, clothe, and provide emergency needs to this poor community.  His church has also been a refuge for at least 15 families during the flooding.
Please continue to pray for us: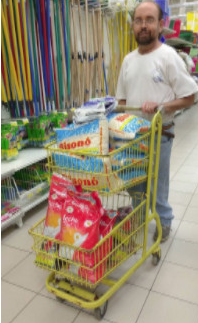 We have had a few financial struggles over the last few months.  We are in need of about $3000 to make up for some shortfalls.  In late September we had 3 different expenses at our house back in the US.  The expenses equaled the rent so we did not receive any rent payments in October.  It is a blessing that they were able to wait and take it out of the rent  but, again, we had to come up with the money for the mortgage payment.  Also in October we had a few problems with our car that needed to be taken care of.  This was a real strain on our finances here and we still owe the mechanic around $35.  We have also fallen a little behind on Mae's tuition and, as everyone knows, insurance costs will be going up next year.  We still don't know how much that will be.  It feels like we are constantly asking (and praying) for money.  If 50 to 80 people looking at this newsletter would commit to just $10 a month for the next year or two then we wouldn't have to ask and we would be able to help out some others that are in need of help also.  Thank you for praying about this and considering helping out.
NOTE:  If you shop online you can help Walking On The Word Ministries by your shopping.  You can use these two links (iGive.com/WalkingOnTheWordMinistries)  (smile.amazon.com/ch/45-4396053) to shop online and we will receive a percentage of your purchase without you having to do a thing. These links can be used all year long.
Other Prayer Requests and Praises:
Thank you for praying for Mae. She has done a great job with being on her own for the first time. She is also really enjoying her time at ALC.

The ministry at El Puente is going well. Please continue to pray for this new ministry as we continue to work with it.

We will be working with Velvet Sommer with Missions Beyond handing out Christmas shoe boxes at the Haitian school projects. Pray that the kids will be blessed by the outpouring of love at Christmas.
Walking On The Word Ministries · 100 Airport Ave. · c/o Agape Flights STI 27367 · Venice, FL 34285 · USA