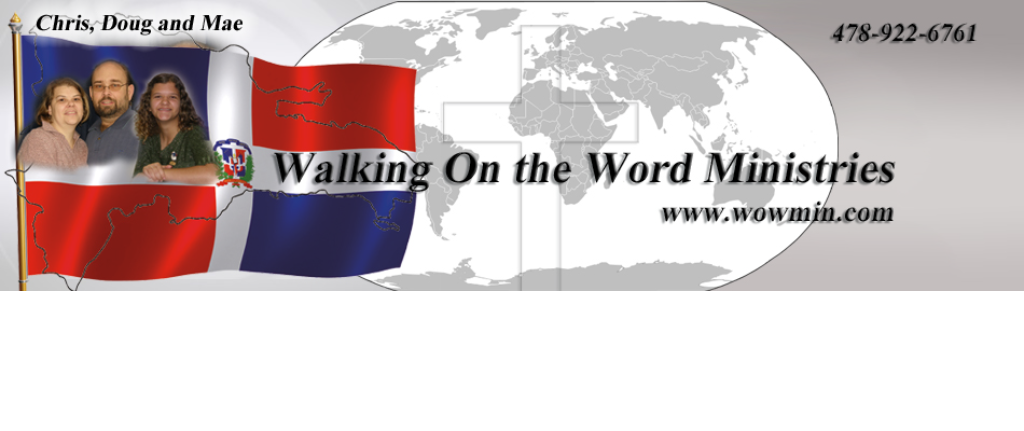 A Lot of Change At Home…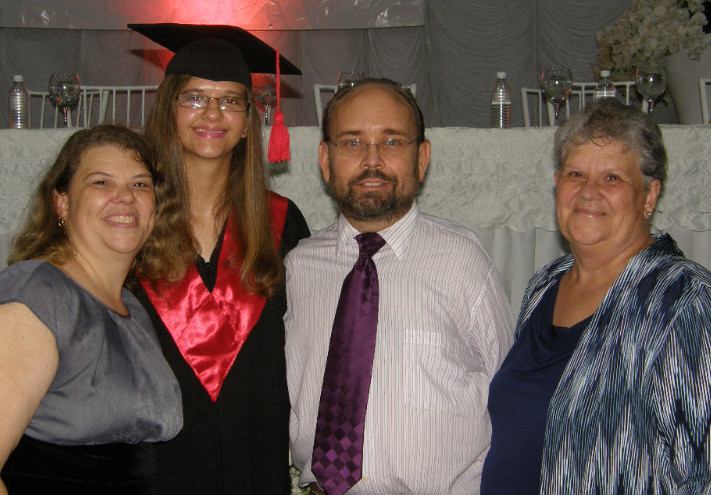 Our daughter, Mae, graduated from HS in June.  We were blessed to have Chris' mom come and share this event with us.  It is hard to believe that after 12 years of homeschooling, along with a combination of LVCS the last 3 years, that our girl is headed out into the world of college and ministry of her own.  After much prayer and waiting she was accepted into Atlanta Leadership College, Master's Commission Program, in Norcross, GA.  What an amazing and wonderful way to start adulthood.  She will be attending classes and ministering at the same time.  She will also be learning more about Christ and how to share His love with others.  We are so amazed at the heart for ministry that God has cultivated in her.  These last 3 years as a missionary in the Dominican Republic has helped seal that desire in her.  Currently she is in the US staying with Chris' mom and working two part-time jobs to earn money toward her schooling.  If you would like to know more about the program that she will be attending you can go to alconline.org and learn all about this amazing program.  During her first year at ALC she will be going to school, seeking the Lord's desires for her life, doing a lot of ministry in downtown Atlanta and with her church.  She will also be taking a longer term missions trip in February either overseas or in another city in the U.S.  She is working to help pay for her schooling, but she is also stepping out in her faith to make this happen.  If you would like to help with her schooling or her missions trip in February you can either go to her 'go fund me' page here or the ALC payment page here (note: if you give through the ALC page all your donations are tax deductible).  For ALC, you do not have to sign in, just use the drop down box and choose "2016-17 1st year tuition," fill in your information, and choose Christina Mae Wilson from the drop down box.  All funds received, whether through Go Fund Me or ALC will be used for her tuition and missions trip.  Gifts of any size will be a huge blessing for her.  Thank you for your love for Mae and helping her develop into the woman God desires.
As For Us…
As for the two of us, we are now living as empty nest, full-time missionaries.  We have decided after much prayer, talking, balancing out pro's and con's, and seeking the will of God that we will remain here in the Dominican Republic for at least one more year.  We have added on responsibilities this year since the long time missionaries that we work closely with are on furlough.
Doug will be the interim pastor at El Puente, the coffee house/church program that was started a year and a half ago.  This will be something new for him and will stretch his faith even more.  He is also looking to teach an adult English class at LVCS.  Please pray for both of these areas as they are relatively new areas for him.  He will also continue helping Mitch and Debbie, from afar, with the administrative areas while they are out of the country.
Chris will continue teaching at LVCS.   She will continue her morning classes and be teaching an intermediate English class to middle school and high school students in the afternoon.  This has been something that she has grown to love more each day.  She also will continue teaching private English lessons to a sweet 7 year old girl who has won her heart.  Please pray for Chris as she shares God's love and his word with this family.  They are not Christians but seem to be open to Him, we pray that one day soon they will  come to know the Lord as theirs.
Prayer Points:
Please pray for Mae as she heads off for Atlanta at the end of September.
Please pray for La Vega Christian School as they begin a new year. Also pray for the kids that they would see their need for Jesus.
Please pray for El Puente International Church. Pray for God's direction for this ministry and ideas on how to reach out to the college kids in the area.
Please pray for wisdom for Doug as he sets out to teach the adult English class in the afternoon.
Please pray for Mae's finances (and donate) as she heads off to school.
6. Please pray for our finances as well.  You would be surprised how far a miscellaneous offering can go to fill in the gaps.