Special note and Prayer Request:
Please continue to pray for Julio and Adrianna. It is a real hard job to run an orphanage and raise a family at the same time. The long hours have been hard on their marriage and family. Pray God will replenish them, bless them, and use them in a powerful way. Pray they will not be tired physically or spiritually.  Commit yourself to pray daily for them.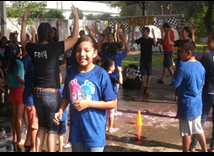 Vacation Bible school was awesome this year.  Since the orphanages have so many children, they had to have their own VBS.  All the children gathered under a huge shelter at Casa Matriz. Several years ago the shelter was built so the children would have a dry place to meet, however I think they lost sight of that concept at this year's VBS. From the looks on their faces the cool water was gladly welcomed.
Once Again we will be helping out with school uniforms, shoes, and back packs. We are fortunate to have some money in our account, but we are about $500 short of what we need. Please give as you are able to help the boys.
Summer Is Over: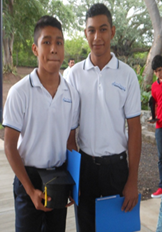 The boys are returning to school. Summer is only about six weeks since they have a shorter school day and a million holidays. Two of our boys will be entering high school. We are so proud of Ismael and Tono.
Relationships are so important in ministry.  Julio hast to win the boys trust before he can start to minister to them.  It takes a lot of time and effort to win the boys heart over. This is not an easy task and there are no guaranties. Each boy is unique, and the road to each boy's heart is different. They had a festival to celebrate fathers, and it was nice to see the boys take a moment and Let Julio know they cared.
Thank you and God bless you.
Please make check to:
Mission to the Children
P. O. Box 211322
Bedford, TX  76095