UfaBible Ministries
Spanning continents for Christ
www.ufabible.info
Hello from Ufa!
Thank you for praying for safety and health of His Children in Ufa. God
kept us safe and away from serious infections. More than 500 deaths confirmed in Russia
from the complications with swine flu in the last a few months. Now the epidemic has
started to decline. We know He is in control!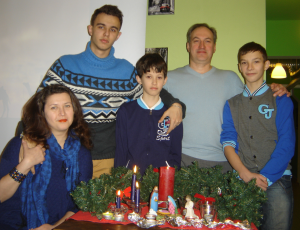 In this prayer letter we would
like to ask your prayer about
Gleb and Yulia and their
three sons. Brother Gleb used
to serve the Lord and led a
small church in Ufa. Then the
ministry went down and he
has lived many years in
discouragement. They joined
our church a few years ago
and our prayer is that they
can be on fire for the Lord
again. Pray that the
bitterness of failure could not
overshadow their calling.
Liliya and Tim made it safely to Albany two weeks ago. Liliya is in her 7th month of
pregnancy and she is due in mid-April. God has been gracious to them traveling
themselves from Ufa to New York with a few modes of transportation. Stas is going to
travel to New York in April to reunite. While in New York, Tim will be attending
Kindergarten for a few months. Please pray for Liliya's health for the last a few months of
pregnancy, finding a hospital and for the baby's last stages of development. Please keep
us in prayer as we make final preparations for the new baby.
Please continue to pray for our Men's/Woman's clubs. Keep those in prayer who would
like to receive water baptism since it is serious step in this culture. Pray that the Lord
would continue to open doors and give us more opportunities to reach out.
Thank you very much for your faithful friendship and love to us. God has shown Himself very true as
He provides for each of our needs. Thank you for your part in this provision. We thank the
Lord for your and love you very much.
Stan and  Liliya
You can make tax deductible contribution to Ufa Bible Ministries which is recognized by the IRS as a 501c3
non-profit organization. Make checks payable to:
Ufa Bible Ministries (UBM)
518 Green Ave SW
Massillon, OH 44647