GRACE CHRISTIAN OUTREACH MINISTRIES
205 Wildwood Avenue
Madison, MN 56256
Dear Friends,
God's blessings to you!
Please pray for my trip to Haiti. I will
be leaving on February 5th and will be meeting with Weston
Ronan and Dennis and Teri McManus who will form our
team. We will do street ministry at the Cape Haitien Carnival,
start our DVD Bible Colleges in Cape Haitien, do children's
and youth ministry, minister in Pastor Jon Regis' church, and
whatever God opens up for us. Please pray for God's favor,
open doors and blessings on this trip.
The first several days in December I was in Oaxaca where I
met Pastor Hector Franco, the current pastor of the Latino
church we had started several years ago at the Evangelical
Free Church in Morris, MN and our DVD Bible College
director, Isabel Lopez. While in Oaxaca City we ministered to
extremely needy children and their families. We distributed
audio MP3s to those who could not read. We held a
conference for area pastors where Pastor Hector ministered.
The pastors were blessed by the teaching and saw many ways
they could apply it to their lives and ministries. We gave each
pastor literature and MP3s to distribute. Pedro of Great
Harvest Ministries, a pastor who worked heavily on the
translation of the New Testament from Spanish to the dialect
of Zapoteco, attended. We are currently working to get the
Zapoteco language and two other dialects on the audio MP3s
for people who speak those languages. Pastor Hector was led
to bring many pastoral study books which he donated to a
local pastor to use in his ministry. That was a huge answer to
pray as he and his wife had been praying for many years for
these materials!
From Oaxaca City we went by bus seven hours through the
mountains, battling rain, until we reached Tuxtepec, Oaxaca.
From there we went through more mountains to the town of
Usila where we met with Pastor Inver who is the Bible
College director over this extremely spiritually needy area and
is opening many schools. We will soon graduate 20 to 30
Bible College students in Oaxaca as well as many other
students from other schools in Tuxtepec.
Both the graduations
held in Oaxaca were incredible with a total of 65 students
receiving their diplomas. I was often in tears seeing these well
trained graduates who God was going to use to impact many,
many lives for Christ.
From Oaxaca I returned to Nuevo
Laredo as a friend from my hometown, Lowell Prellwitz, was
arriving with a trailer full of ministry supplies for us to use
during the Christmas outreaches. He was a big help with the
Christmas outreaches. Approximately 100 people came to
Christ and each child was blessed with a nice toy and each
family was blessed with clothes, hygiene items and a blanket
made by quilting groups from Minnesota. Please pray that
these new believers continue to grow in the Lord and that
those who did not give their lives to Christ will do so soon.
Lee Ulstad from my hometown and
Carmen Ortiz, a minister from Austin,
TX were the special speakers at the
DV Bible College graduation in
Nuevo Laredo. Lee and Carmen each shared a great message
for the students. It was a huge blessing to see the joy in the
faces of the forty graduates as they were rewarded for their
hard work. Please pray that God will use these students to do
mighty things to advance His kingdom in Mexico and
wherever else He may send them.
I showed Lee a piece of land that
had been donated to a church that
started a year ago. The church has been meeting under a tree
on this vacant lot. They have been praying that God would
make a way for them to build a church. Lee and a group of
men from the Dawson Covenant Church have previously done
many building projects in Mexico. Lee met the pastors and
their children and he got a desire to build them a church. Most
of the material for the church was purchased two weeks ago
but funds are still needed to finish it. The congregation is
laying the concrete blocks and Lee and his team will come in
March to put on the roo and finish the inside. If you want to
help towards this project include a note with your check
indicating the donation is to complete the church in Nuevo
Laredo.
A group of us headed to Monterrey to do children's
outreaches and conduct a DVD Bible College graduation. We
ministered to over 500 people during our outreaches in the
Monterrey area and 240 people made decisions for Christ. We
graduated forty-five students and the presence of the Lord was
very evident during the graduation service. While in
Monterrey I saw that the printer was ready to run and the plans
were to start printing Gospel materials the middle of January.
Unfortunately, a week after we returned from Monterrey, we
received word from Pastor Enrique, who will be in charge of
the printing. His wife had a virus attack her brain and she was
in a coma. She died two weeks later. Please pray for Pastor
Enrique and his family as they mourn the loss of their wife
and mother. Ines was a special lady who would always open
her house to mission groups and was a vital part of the
ministry.
Thanks to everyone who prayed for the Christmas
outreaches and thanks also to those who donated ministry
supplies like toys, blankets, clothes, hygiene items, etc. to
bless the people of Mexico. Thanks for those who support the
ministry financially to allow us to do the outreaches in
different parts of Mexico and the world as the Lord leads.
None of this could happen for the glory of God without your
generous donations and we truly thank you! May you have a
blessed 2016 and may God use you in mighty ways this
year!!!
Serving Christ,
Rev. Kevin, Sylvia and Joshua Rosendahl
Grace Christian Outreach Ministries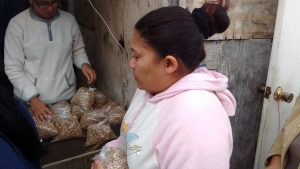 Many pounds of beans were given to the needy people
who attended the outreaches.
Ministry Needs
– Donations to complete the church in Nuevo
Laredo
– People to help us print the class booklets to give
to each Bible College and the funding to do it
– Mission groups to come to Mexico or Haiti to
minister to the Mexican and Haitian people
– Van for missionary base in Nuevo Laredo
– More committed prayer and financial supporters
of the ministry
Prayer Needs
– For the funding for the Haiti trip and for God to
use all of the mission team mightily to bring
people to Christ, make disciples, and train leaders
– For total healing of Sylvia's acid reflux issues
and eye issues
– For our ministry financial support to be more than
sufficient for all of the ministry needs
– For safety and protection wherever we go and for
the mission teams as well
– For God's will regarding our housing as we really
feel packed into the RV