February 7, 14, 21, 28
The United For Him Concert Series all Sundays in February
"Transforming Our City"
Please pray for the next four Sundays in February for the "United For Him" event. We are asking the Lord for great weather, and a wonderful move of His Spirit among the young people attending. Please pray that all financial needs for the event will be met.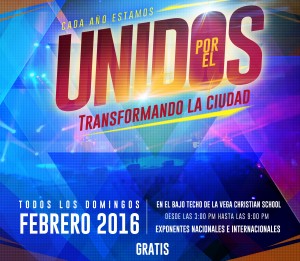 "Unidos Por El" (United For Him), is the youth event that your missionaries have been very involved with for the past seven years. It is a series of Youth Concerts every Sunday in February, which have been organized to create a Christian alternative to the wild Carnival Festivals which seems to envelope like a dark cloud the city of La Vega every year.
The spirit of partying, and promiscuity is promoted all weekend long. Violence and vehicle accidents are par for this event. Concerned that even children were being drawn into this event, we networked with area youth pastors and began coming together for a clean, spiritual, counterbalance for young people. From a couple of hundred young people, we have grown to over two thousand attending the event each night. From Contemporary Christian music, to Christian Rap and Rock, there is something for every one in the family.
Every year it is a battle to raise the funds for this event. It costs us over $8000.00 US to put on the event each year. We have now raised more than 50% of what we need and are praying the rest will be raised before the end of the month of February.
If you have a heart to reach young people with the good news of a loving Savior, and would like to contribute to this need, please call us at 863-248-1119. This is a US Vonage number that rings here in La Vega.