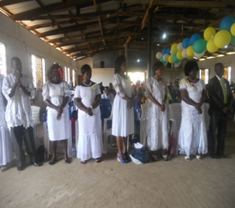 PRAISE GOD
Praise God for the many things He has done during the 21 years of ministry and especially this year through the Killer Ebola. "My grace is sufficient for you, for my power is made perfect in weakness" (2 Corinthians 12:9).
THANK YOU
I thank God for all of you and your continue prayer and financial support for me and for the ministry. I am thankful for what God is doing through you and us in Liberia as we partner together in advancing the Kingdom of God in Liberia and all part of the World.
MINISTRIES UPDATE
We started the month of November with leadership training and Communion Service on first Sunday, November 1, 2015. The month of November, we preached and I taught on "THE FIVE BASIC COMMITMENTS THAT COMPRISE OUR MEMBERSHIP IN A LOCAL CHURCH" From the texts: ROMANS 12:4-8 AND 1 THESSELONIES 5:12-13
CHURCH 22 ANNIVERSARIES
The church held her 22nd Anniversary from November 22-29, 2015.
The theme for the Anniversary for this year is "REBUILDING THE BROKEN PIECES" from the text: NENEMIAH 1:1-11. Sunday, November 22 the church held an intercessory service and Christian Counseling Graduation. The Guest Preacher Rev. Tuknbor Lawrence, the Pastor of CHRISTIAN FOUNDATION CHURCH. Rev. Samuel R. Enders, President of Africa Dream Academic presented the certificate to the graduates.
Monday to Tuesday, November 23-24 was communities outreach days. Wednesday and Thursday, November 25-26 was revival days. Three of our pastors preached.
Friday, November 27 was Messiah Mission for Africa planning meeting for the four ministries; Messiah Mission Church in Morris Farm, Messiah Mission Church in Dolo Town, Messiah Mission Church in Vezala Town and Messiah Mission Institute.
Saturday, November 28 was a parade in the communities. There were about 150 church and school members paraded through the communities of Neazo, Pipeline, Wood Camp and Morris Farm. After the parade, there were series of sport activities: Volleyball, Kickball and Soccer.
Sunday, November 29, the church held Thanksgiving and Ordination Service. Rev. Dr. Samuel K. Mowel, President of Bomi Community College, Cape Mount County, Liberia.
Ordination photos are attached.
THE SCHOOL
We thank God for your prayers and supports for Messiah Mission Institute. Thank God for gift received from Mr. and Mrs. Henry Koryan. Items were distributed and photos are attached.
PRAISE GOD FOR THE FOLLOWING:
For God continue blessing in our lives and ministry
For the good health and protection for our lives
For our prayer partners and financial supporters
For the gifts from Mr. and Mrs. Henry Koryan
For the successful 22nd Church Anniversary
For the peace we are experiencing in Liberia
PLEASE PRAY WITH US FOR THE FOLLOWING:
That God will give us Wisdom and Focus for the ministries
That God will continue to provide financially for my family and the ministries.
That Ebola will be out of West Africa totally
That God will provide the finance for the construction of the administrative building
That God will raise more people who will pray and support financially for the ministry
Thanks,
Rev. D. Kezzelewule Ballah, Sr.