JENNIFER COOK—Field Report
October 15, 2015
And the LORD answered me: 'Write the vision;
make it plain on tablets, so he may run who reads it." Habakkuk 2:2.
Promised to you in this letter is the expanding & exciting vision for
JTTN! End January 2016 will be 5 years that the team & I have been
ministering in Honduras. Most days, it seems like we have just
scratched the surface of all that the Lord has for us here.
Recently,God has been touching us at many levels, body, soul & spirit, the
purpose of which is to prepare us for what is coming. We have been
established by Him in several ministry locations since 2012.
Mountain orphanage work, the Remoter Villages, the Center of the
C i t y ( E l d e r l y ) , t h e P u b l i c Orphanages (until closure in Nov.
2014) & much Net-working in San Pedro, Tegus & Siguate to name a
few cities. We have enjoyed fellowshipping with missionaries &
nationals alike, discovering that some share a similar vision;
aspects of JTTN's vision are large parts of their visions.
Lately, we have been asking the Lord what His plans are for the children & the
elderly. We have been observing these 2 age groups on the streets for
quite sometime now & we strongly feel that His "Blue-Prints" for them are what
the expanding vision for JTTN now looks like. Children/young adults,
middle-aged & elderly. We envision them living in a Self-Sustainable
Community, where we see lots of land, buildings, crops, livestock. We believe
for space enough to help hundreds of people coming together to care for each
other. A family unit would consist of 2 house-parents (middle-aged adults), 3
to 5 children, 1 elderly man or woman to bridge the generational gap. A church/
pastor, school/teachers, small trade schools/mentors, a doctor, a social
worker & more would be on the property also. We will follow the laws of
the land to see that the children receive the utmost care. In all, our prayer is
that God will be honored and glorified!
This would not be exclusively a JTTN project; it will take many people to see
this vision come to pass. We have met an HN architect, are aqainted with
some HN lawyers & those that know the laws of the land for such a project as this.
Please keep in your prayers, His
timing for the start of the Self
Sustainable Community Project & also His choice of
team for us.
Our prayer is that this project unfolds EXACTLY the way He wants it to unfold, bringing
transformation & breakthrough into peoples' lives.  JTTN's Board of Directors & Supporting Churches bear witness with the expanding vision.
Meanwhile, we minister in the places where we have been established,
until the Lord calls us to move fuller-time into the
newer project.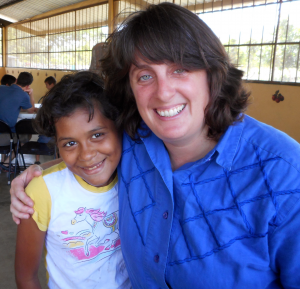 Jen/older girl at El Refugio
before music ministry.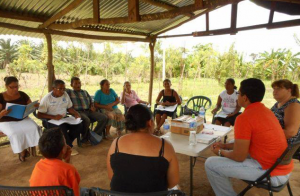 Andres (volunteer)
sitting beside Joy teaching Bible Institute classes at
Villa Soleada. Since the summer of 2014, JTTN has
also been discipling adults in a 2nd remote village
through trained national leaders from Villa Soleada.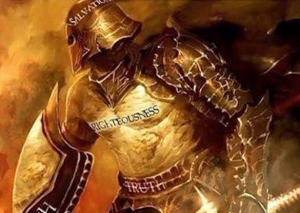 What a Christian looks like in the spiritual realm wearing his/her battle armor. Each piece in the photo is labeled according to Ephesians 6:14. How is your daily walk with Jesus as you submit to Him & to His authority, allowing Him to lead the way, every step of the way?
MUCHAS GRACIAS for everything you faithfully do as I live & minister from Honduras, Central America. You help to make this all happen! Many Blessings to you Always!!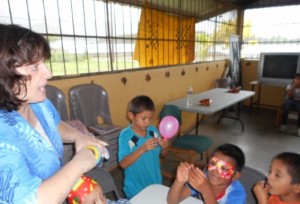 Email: jencook01@gmail.com
Website: www.joytothenations.com
Mail checks payable to:
TMCI
PO Box 1761
Columbia, SC 29202
Please write 'JTTN: Jen Cook' in the check memo