PRAISE GOD
"I thank my God every time I remember you in all my prayers for all of you, I always pray with joy because of your partnership in the gospel from the first day until now…" Philippians 1:3-5
THANK YOU
Thank you for supporting us with your prayers and finances.
I thank God for all of you and your continue prayers and financial support for me and for the ministry. I am thankful for what God is doing through you and us in Liberia as we partner together in advancing the Kingdom of God in Liberia and all part of the World.
MINISTRIES UPDATE
We started the month September with Leadership Fast and Prayer on September 4, 2015. The communion service was held on Sunday, September 6, 2015. I am teaching and preaching on the Theme: "Love; The Key To Christians Fellowship; From the Text: Deuteronomy 6:1-5; 1 Corinthians 13:1-13.
LEADERSHIP TRAINING
I am training leaders in the church and school. At the end of the training, we will ordain and certificate faithful leaders in November.
CHILDREN MINISTRY GOWNING PROGRAM SUNDAY SERVICE SEPT. 27, 2015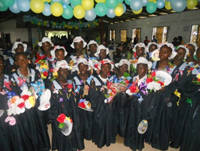 The Children Ministry Gowning program was held on Sunday, Sept. 27, 2015. There were twenty three children that were gowned.
THE SCHOOL
We thank God for your prayers and supports for Messiah Mission Institute. Thank God for the successful reopening of the school. Many parents are unable to send their children to school due to financial difficulty.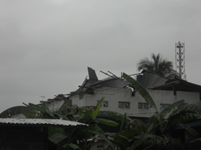 PICTURES OF DISASTER CAUSED BY THE STRONG WIND THAT CAME THROUGH MONROVIA AND ITS SOURROUNDINGS.
Schools, church, mosque and dwelling houses were destroyed by the wind.
SPONSORSHIP PROGRAM
The sponsorship program has 25 children and all are in school. We are in need of your support. Please pray with us.
FUTURE EVENTS OF THE CHURCH AND SCHOOL
The Youth Ministry will honor 10 hard working youth leaders in the church on Sunday, October 18, 2015. The Usher will have awareness program on Sunday, October 25, 2015.
PRAISE GOD FOR THE FOLLOWING:
For God continue blessing in our lives and ministry
For the good health and protection for our lives.
For our prayer partners and financial supporters
For the peace we are experiencing in Liberia
For the successful Children Gowning program
For the successful reopening of the school
PLEASE PRAY WITH US FOR THE FOLLOWING:
That God will give us Wisdom and Focus for the ministries
That God will continue to provide financially for my family and the ministries.
That God will raise sponsors for the sponsorship program
That God will provide funds for the repair of the school building
That God will provide funds for the reroofing of the church building
Thanks,
Rev. D. Kezzelewule Ballah, Sr.